The German version is legally binding. For customer satisfaction, we provide this English version.
Kapitel Zwei. Deutsch-Sprachschule Berlin GmbH
Daniela Neicke & Susanne Schübel
Am Köllnischen Park 1
10179 Berlin
Telefon: +49 (0) 30 -54 891 291
Email: berlin@kapitel-zwei.de
HRB 140202 B Amtsgericht Berlin Charlottenburg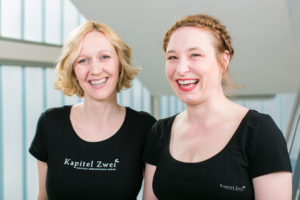 Managing Directors: Daniela Neicke & Susanne Schübel
The contractual relationship is governed exclusively by the law of the Federal Republic of Germany.
Copyright
The rights to any texts, images, layouts, structures and compositions of not only the website, but also all social media of « Kapitel Zwei. Deutsch-Sprachschule Berlin GmbH » as well as the rights to all advertising campaigns (for example » Street Berlin « ) are with Daniela Neicke & Susanne Schübel and with the designated photographers and graphic designers unless otherwise indicated. Further publication is only possible after consultation. The copying of patent-free marketing activities in the sense of competition law is recorded. All past and future copies of the image campaign (« Street Berlin ») of « Kapitel Zwei. Deutsch-Sprachschule Berlin GmbH » as well as the copying of our text contents, their structure as well as image are likewise continued to be logged.
Sound and image recordings
It is not allowed to carry out sound and image recordings of Daniela Neicke & Susanne Schübel and anyone in connection with « Kapitel Zwei. Deutsch-Sprachschule Berlin GmbH » nor to physical follow, or to spy on them physically or online. It is also forbidden to harass and to verbally contact them with intention of intimidation.
We refer to the right of one's own image as a special expression of the general right to privacy or the fundamental right to one's own image, also because of secretly recorded videos, cf. OLG Karlsruhe from 08.11.2001 – 12 U 180/01; OLG Cologne from 05.07.2005 – 24 U 12/05, Brandenburg Higher Regional Court from 21.05.2012 1 U 26/11.When taking photographs of persons outside their private space, the police may intervene and confiscate the pictures, even if there is no reason to fear that the pictures will be published, due to a violation of the General Personality Code in special circumstances (such as psychologically confused).The violation of the very personal sphere of life through image capturing in Germany, is according to § 201a Penal Code (StGB) an offense that can be punished with imprisonment up to one year or with a fine.
Disclaimer
Despite all efforts to ensure the accuracy and timeliness of the information provided on this website, we can not completely rule out mistakes. The operators assume no responsibility and liability for the accuracy, completeness or quality of the information provided. We are not responsible for external content through (in)direct links.
Liability for links
Our website contains links to external third party websites of whose contents we do not have any influence. Therefore, we cannot assume any liability for these external contents. The respective provider or operator of the pages is always responsible for the contents of the linked pages. The linked pages were checked for possible legal violations at the time of linking. Illegal content was not recognizable at the time of linking. However, a permanent content control of the linked pages is not reasonable without concrete evidence of an infringement. Upon notification of violations, we will remove such links immediately.
2. Privacy
The German version is legally binding. For customer satisfaction, we provide this English version.
Data protection
As of: 16.12.2020
This Privacy Policy applies to the entire « Kapitel Zwei. Deutsch-Sprachschule Berlin GmbH » and their applications.
Responsible body in terms of data protection laws is:
Kapitel Zwei. Deutsch-Sprachschule Berlin GmbH
Daniela Neicke & Susanne Schübel
Am Köllnischen Park 1
10179 Berlin
email: berlin@kapitel-zwei.de
Our data protection officer is:
Proliance GmbH
Leopoldstraße 21
80802 München
email: datenschutzbeauftragter@datenschutzexperte.de
How is your personal information processed?
1. General information for the purposes of data processing.
Essentially, we process personal information in order to fulfill our contractual obligations to our participants in the school program. The processing of the data is the prerequisite for suggesting appropriate courses, exams, accommodation and other information appropriate to your age.
2. Information you give us.
This is data that we receive directly from you and information that you provide in person or by telephone, by email, by post or by registering on our website, publish or send, for example:
Personal data (eg gender, first name, name, address, email, telephone, nationality, date of birth, place of birth)
Learning objective (eg placement tests, level information, course dates and times, language pre-school education, occupation)
Accounting purposes: Payment details
3. We do not receive information automatically.
4. We do not collect information from other sources.
5. Who receives your personal data?
Here you can find out with whom we share information, what purpose it serves and how you can protect your privacy. We only pass on personally identifiable information to third parties if …
we are legally, judicially, officially, commercially obliged to do so.
this is necessary to fulfill our business purposes, e.g.
a) to take a telc exam through the telc institute.
b) to accept and carry out accommodation in the dormitory or in our host families and shared apartments.
We pass on your first and last name and attendance as follows:
c) to check attendance at company courses (in-house at company headquarters) to the employer
We pass on your first and last name as follows:
d) to actively participate in the German course by being called by your name the teacher
Your email address will be used as follows:
e) for logging into our Zoom online courses
We therefore limit the sharing of customer data.
6. What emails do I receive?
We will send you emails regarding the following topics:
Course start and follow-up course
Reservation / booking confirmation
Cancellation of a course
Change-over of a course (#offline, #online)
new dates
Replacements
Change of rooms/ location information
telc information (available evaluations, conditions of participation)
public/ bank holidays
Feedback
Course program information in response to your specific request (no unsolicited or promotional emails)
Events in the current month with Kapitel Zwei
7. Will I be photographed?
Please note that we will take photos of you during the booked courses and all events outside our classes (Get2gether, excursions, etc.). We will post those on social media used by Kapitel Zwei and our website.
On one hand, this makes a nice a memory of the activities you and your family shared with us, on the other hand, the photos are also considered a positive impression of our language school for our online visitors and potential customers.
Before taking a picture, the Kapitel Zwei Promoter will ask you if you would like to be photographed.
You give your consent by posing for the photo and appearing in it. You can objection to this, which you have to express immediately and clearly, will result in you not posing for the photo(s). There will be no personal or business disadvantage following your decision..
The use of photographic images for purposes other than those described, is prohibited. That includes posting them (deliberately) online or sharing them with 3rd parties.
This consent is voluntary. You can revoke your decision at any time without any problems. Send an email to berlin@kapitel-zwei.de
8. What rights can you claim?
Here you can inform yourself in detail about your rights:
Your right of opposition
Your right to information
Your right to cancellation
further rights
In « Kapitel Zwei » none of your questions should be left open.
Learn more
Cookies
Like many other websites, we also use so-called « cookies ». Cookies do not harm your computer and do not contain any viruses. Cookies help make our website more user-friendly, efficient, and secure.
Cookies are small text files that are stored on your computer and saved by your browser. Most of the cookies we use are so-called "session cookies." They are automatically deleted after your visit. Other cookies remain in your device's memory until you delete them. These cookies make it possible to recognize your browser when you next visit the site. You can configure your browser to inform you about the use of cookies so that you can decide on a case-by-case basis whether to accept or reject a cookie.
Alternatively, your browser can be configured to automatically accept cookies under certain conditions or to always reject them, or to automatically delete cookies when closing your browser. Disabling cookies may limit the functionality of this website
In no case will the data collected by us, be passed on to third parties nor will a link with personal data be established without your consent.
Registering on our website
When registering for the use of our personalized services, some personal information will be collected, such as name, address, contact and communication information such as telephone number and e-mail address. If you are registered with us, you can access content and services that we offer only to registered users.Registered users also have the option of changing or deleting the data specified during registration at any time. We also provide you with information about the personal data we store about you at any time you wish to know. We will retain the data you provide on the contact form until you request its deletion, revoke your consent for its storage, or the purpose for its storage no longer pertains (e.g. after fulfilling your request). Any mandatory statutory provisions, especially those regarding mandatory data retention periods, remain unaffected by this provision. To contact us regarding this, please use the contact details given at the end of this Privacy Policy.
Provision of paid services
To provide paid services we ask for additional data, such as: Payment details.
SSL encryption
This site uses SSL or TLS encryption for security reasons and for the protection of the transmission of confidential content, such as the inquiries you send to us as the site operator. You can recognize an encrypted connection in your browser's address line when it changes from "http://" to "https://".
If SSL or TLS encryption is activated, the data you transfer to us cannot be read by third parties.
Newsletter
When you sign up to receive our newsletter, the data will be used exclusively for the newsletter and will not be passed on to third parties. Subscribers may also be notified by email about circumstances relevant to the service or registration (such as changes to the newsletter offer or technical conditions).
For an effective registration we need a valid e-mail address. In order to verify that an application is actually made by the owner of an e-mail address, we use the « Double opt-in » procedure. For this purpose we record the subscription of the newsletter, the distribution of a confirmation mail and the receipt of the requested answer. Further data is not collected.
The data provided when registering for the newsletter will be used to distribute the newsletter until you cancel your subscription when said data will be deleted. Data we have stored for other purposes (e.g. email addresses for the members area) remain unaffected. You may revoke your consent at any time with future effect.
Each newsletter contains a link to unsubscribe.
Contact form
If you contact us by e-mail or contact form, the information you provide will be stored for the purpose of processing the request and for possible follow-up questions.
Deletion or blocking of data
We adhere to the principles of data avoidance and data economy. Therefore, we only store your personal data for as long as is necessary to achieve the purposes mentioned here or as provided for by the various storage periods provided for by law. After discontinuation of the respective purpose or expiration of these deadlines, the corresponding data will be routinely and in accordance with the statutory provisions blocked or deleted.
Use of Google Analytics
This website uses Google Analytics, a web analytics service. It is operated by Google Inc., 1600 Amphitheatre Parkway, Mountain View, CA 94043, USA. Google Analytics uses so-called "cookies".
These are text files that are stored on your computer and that allow an analysis of the use of the website by you. The information generated by the cookie about your use of this website is usually transmitted to a Google server in the USA and stored there. Google Analytics cookies are stored based on Art. 6 (1) (f) DSGVO.
IP anonymization: We have activated the IP anonymization feature on this website. Your IP address will be shortened by Google within the European Union or other parties to the Agreement on the European Economic Area prior to transmission to the United States. The IP address transmitted by your browser as part of Google Analytics will not be merged with any other data held by Google.
Browser plugin: You can prevent these cookies being stored by selecting the appropriate settings in your browser. However, we wish to point out that doing so may mean you will not be able to enjoy the full functionality of this website. You can also prevent the data generated by cookies about your use of the website (incl. your IP address) from being passed to Google, and the processing of these data by Google, by downloading and installing the browser plugin available at the following link: https://tools.google.com/dlpage/gaoptout?hl=en.
For more information about how Google Analytics handles user data, see Google's privacy policy: https://support.google.com/analytics/answer/6004245?hl=en.
Google Analytics Remarketing
Kapitel Zwei uses the features of Google Analytics Remarketing in conjunction with the cross-device capabilities of Google AdWords and Google DoubleClick. The provider is Google Inc, 1600 Amphitheatre Parkway, Mountain View, CA 94043, USA.
This feature allows linking the advertising audiences created with Google Analytics Remarketing to the cross-device capabilities of Google AdWords and Google DoubleClick. In this way, interest-based, personalized advertising messages that were adapted to you on one device (e.g. mobile phone) can also be displayed on another of your devices (e.g. tablet or PC) depending on your previous usage and surfing behavior on that device.
With your permission, Google will link your web and app browsing history to your Google Account for this purpose. In this way, the same personalized advertising messages can be displayed on any device you sign in with your Google Account.t.
To support this feature, Google Analytics collects Google-authenticated user IDs that are temporarily linked to our Google Analytics data to help us define and create audiences for cross-device advertising.
You can opt-out of cross-device remarketing/targeting permanently by deactivating personalized advertising in your Google Account, following this link: https://www.google.com/settings/ads/onweb/.
The aggregation of the collected data in your Google Account is based solely on your consent, which you can give or withdraw to Google (article 6, paragraph 1, letter a, DSGVO). For data collection operations that are not merged into your Google Account (e.g. because you do not have a Google Account or because you have objected to the merging), the collection of data is based on article 6, paragraph 1, letter f of the DPA. The legitimate interest arises from the fact that the website operator has an interest in the anonymised analysis of website visitors for advertising purposes.
Further information and the data protection regulations can be found in the Google data protection declaration at: https://www.google.com/policies/technologies/ads/.
Google AdWords and Google Conversion Tracking
This website uses Google AdWords. AdWords is an online advertising program of Google Inc, 1600 Amphitheatre Parkway, Mountain View, CA 94043, United States (« Google »).
As part of Google AdWords, we use what is known as conversion tracking. When you click on an ad placed by Google, a conversion tracking cookie is set. Cookies are small text files that the internet browser places on the user's computer. These cookies expire after 30 days and are not used to personally identify users. If the user visits certain pages of this website and the cookie has not expired, Google and we may recognize that the user clicked on the ad and was redirected to that page.
Each Google AdWords customer receives a different cookie. The cookies cannot be tracked through the websites of AdWords customers. The information collected through the conversion cookie is used to compile conversion statistics for AdWords customers who have opted in to conversion tracking. Customers are told the total number of users who clicked on their ad and were redirected to a page with a conversion tracking tag. However, they do not receive any information that can be used to personally identify users. If you don't want to participate in tracking, you can opt-out of this use by slightly disabling the Google Conversion Tracking cookie on your web browser under User Preferences. You will then not be included in the conversion tracking statistics.
The storage of « conversion cookies » and the use of this tracking tool are based on Art. 6 para. 1 lit. f DSGVO. The website operator has a legitimate interest in the analysis of user behaviour in order to optimise both his website and his advertising.
More information on Google AdWords and Google Conversion Tracking can be found in the Google data protection regulations: https://www.google.de/policies/privacy/. You can set your browser so that you are informed about the setting of cookies and allow cookies only in individual cases, exclude the acceptance of cookies for certain cases or generally, and activate the automatic deletion of cookies when closing the browser. If you deactivate cookies, the functionality of this website may be limited.
Google Web Fonts
For uniform representation of fonts, this page uses web fonts provided by Google. When you open a page, your browser loads the required web fonts into your browser cache to display texts and fonts correctly. For this purpose your browser has to establish a direct connection to Google servers.
Google thus becomes aware that our web page was accessed via your IP address. The use of Google Web fonts is done in the interest of a uniform and attractive presentation of our website. This constitutes a justified interest pursuant to Art. 6 (1) (f) DSGVO. If your browser does not support web fonts, a standard font is used by your computer.
Further information about handling user data, can be found at https://developers.google.com/fonts/faq and in Google's privacy policy at https://www.google.com/policies/privacy/.
Google Maps
This site uses the Google Maps map service via an API. It is operated by Google Inc., 1600 Amphitheatre Parkway, Mountain View, CA 94043, USA. To use Google Maps, it is necessary to save your IP address. This information is generally transmitted to a Google server in the USA and stored there. The provider of this site has no influence on this data transfer.
The use of Google Maps is in the interest of making our website appealing and to facilitate the location of places specified by us on the website. This constitutes a justified interest pursuant to Art. 6 (1) (f) DSGVO.
Further information about handling user data, can be found in the data protection declaration of Google at https://www.google.com/policies/privacy/.
YouTube
Our website uses plugins from YouTube, which is operated by Google. The operator of the pages is YouTube LLC, 901 Cherry Ave., San Bruno, CA 94066, USA. If you visit one of our pages featuring a YouTube plugin, a connection to the YouTube servers is established. Here the YouTube server is informed about which of our pages you have visited. If you're logged in to your YouTube account, YouTube allows you to associate your browsing behavior directly with your personal profile. You can prevent this by logging out of your YouTube account. YouTube is used to help make our website appealing. This constitutes a justified interest pursuant to Art. 6 (1) (f) DSGVO.
Further information about handling user data, can be found in the data protection declaration of YouTube under https://www.google.de/intl/de/policies/privacy.
Social plugins
Our website uses social buttons and widgets from social networks. In order to increase the protection of your data when visiting our website, these buttons and widgets are not unrestricted, but merely integrated into the site using an HTML link. This integration ensures that when you visit a page of our website that contains such buttons, no connection with the servers of the provider of the respective social network is established. Clicking on one of the buttons opens a new window in your browser and calls up the page of the respective service provider on which you can (after entering your login data, if required), for example, hit the Like or Share button.
More information about the Shariff solution can be found here: http://www.heise.de/ct/artikel/Shariff-Social-Media-Buttons-mit-Datenschutz-2467514.html
We have integrated the social media buttons of the following companies on our website:
Facebook Inc. (1601 S. California Ave – Palo Alto – CA 94304 – USA)
Twitter Inc. (795 Folsom St. – Suite 600 – San Francisco – CA 94107 – USA)
Google Plus/Google Inc. (1600 Amphitheatre Parkway – Mountain View – CA 94043 – USA)
Online courses via zoom
Please also take note of the data protection information from the provider « Zoom ».
Processing of personal data in connection with the use of « Zoom »:
Purpose of processing
We use the « Zoom » tool to conduct online courses (hereinafter: « Online Meetings »). « Zoom » is a service provided by Zoom Video Communications, Inc., which is based in the United States.
Responsible person
Kapitel Zwei is responsible for data processing that is directly related to the implementation of « online meetings ». German language school Berlin GmbH.
Note: If you access the "Zoom" website, the "Zoom" provider is responsible for the data processing. Calling up the website is only required to use « Zoom » in order to download the software for using « Zoom ».
You can also use « Zoom » if you enter the respective meeting ID and any other access data for the meeting directly in the « Zoom » app.
If you do not want to or cannot use the « Zoom » app, the basic functions can also be used via a browser version, which you can also find on the « Zoom » website.
Which data are processed?
When using « Zoom » different types of data are processed. The scope of the data also depends on the details of the data you provide before or when participating in an « online meeting ».
The following personal data are processed:
User information: first name, last name, telephone (optional), email address, password (if « single sign-on » is not used), profile picture (optional),
Department (optional)
Meeting metadata: topic, description (optional), participant IP addresses, device / hardware information
For recordings (optional): MP4 file of all video, audio and presentation recordings, M4A file of all audio recordings, text file of the online meeting chat.
When dialing in with the phone: information on the incoming and outgoing phone number, country name, start and end time. If necessary, further connection data such as the IP address of the device can be saved.
Text, audio and video data: You may have the option of using the chat, question or survey functions in an « online meeting ». In this respect, the text entries you make are processed in order to display them in the « online meeting » and, if necessary, to record them. In order to enable the display of video and the playback of audio, the data from the microphone of your terminal device and any video camera on the terminal device are processed accordingly for the duration of the meeting. You can switch off or mute the camera or microphone yourself at any time using the « Zoom » applications.
In order to take part in an "online meeting" or to enter the "meeting room", you must at least provide information about your name.
Scope of processing
We use "Zoom" to conduct "online meetings". If we want to record « online meetings », we will inform you transparently in advance. By booking a product from our school program, you consent to the use of Zoom. The fact of a possible recording is also displayed in the « Zoom » app. You can always refuse this.
If it is necessary for the purpose of logging the results of an online meeting, the HOST (aka teacher) will log the chat content. However, this will usually not be the case. The HOST (the teacher) will let you know you in advance.
If you are registered as a user with "Zoom", reports on "Online Meetings" (meeting metadata, data on dialing in, questions and answers in webinars, survey function in webinars) can be saved with "Zoom" for up to one month. However, we do not offer so-called webinars at all.
The option of software-based "attention monitoring" ("attention tracking") that exists in "online meeting" tools such as "zoom" is deactivated.
Automated decision-making within the meaning of Art. 22 GDPR is not used.
Legal basis for data processing
The legal basis for data processing when conducting « online courses » with « zoom » is Article 6 (1) (b) GDPR, insofar as the meetings are carried out in the context of contractual relationships.
If there is no contractual relationship, the legal basis is Art. 6 Paragraph 1 lit. f) GDPR. Here, too, we are interested in the effective implementation of « online meetings ».
Recipient / transfer of data
Personal data that are processed in connection with participation in « online meetings » are generally not passed on to third parties unless they are intended to be passed on.
Data processing outside the European Union
« Zoom » is a service that is provided by a provider from the USA. Processing of personal data also takes place in a third country. An adequate level of data protection is guaranteed on the one hand by the "Privacy Shield" certification of Zoom Video Communications, Inc., on the other hand by the conclusion of the so-called EU standard contractual clauses.
Data protection law in checking compliance with the 3G scenario.
Up-to-date information can be found here.
Your rights to contact information, data correction, blocking and right of objection
You have the right to demand information on the personal data processed by us at any time.
You have the right to demand without delay the correction of incorrect personal data or completion of personal data stored with us. Please contact our data protection officer. The contact details can be found at the bottom of the page.
For a data lock to be taken into account at all times, these data must be stored in a lock file for control purposes. You have the right to demand the deletion of your personal data stored by us, unless further processing is required e.g.
– to exercise the right to freedom of expression and information;
– to fulfil a legal obligation;
– for reasons of public interest or
– to assert, exercise or defend legal claims
You can make changes or revoke your consent by notifying us with effect for the future.
Change of our privacy policy
We have the right to revise and amend these terms and conditions to ensure that it complies with current legal requirements or to implement changes to our services in the Privacy Policy. For example, when introducing new services. Your new visit will be subject to the new privacy policy.
Questions to the data protection officer
If you have any questions about privacy, please write send us an email or contact our Privacy Officer directly.
The privacy policy was created with the help of the privacy statement generator of activeMind AG.