Berlin and its incredibly tasty food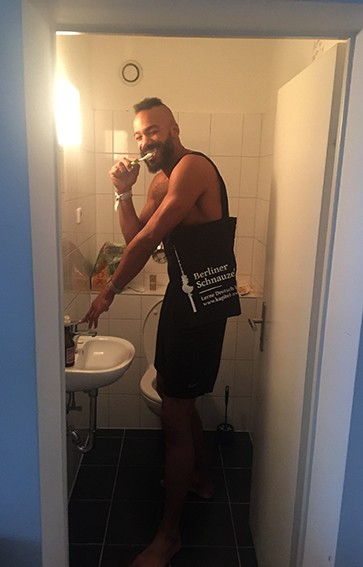 One of my favorite things about Berlin is the food! Eating is my most enjoyable hobby, and in Berlin, if you like food, you can be very happy. I am learning German at Kapitel Zwei so that I can understand menus in German, instead of having to ask someone to translate! I had my first German test today, so we will see how I am coming along.
A place I really enjoy eating at is the Khartoum Sudanese Grill, because they put this impeccable peanut sauce on their Pitas and cook everything right in front of you. I typically get the Falafel wrap, because I'm trying to cut down on meat, which is a very Berlin thing to do. Sometimes I splurge and get the chicken. The food is delicious, and it has loads of vegetables which make me feel like I'm eating something healthy, though I've never investigated the actual nutritional content. Ignorance is bliss, right?
Khartoum is on the edge of Görlitzer Park, just a short ride from Alexanderplatz on the U8. I like riding the metro, though it's quite busy during the day. There's always someone on the train with you, even at 3am, and the later it gets, the zanier characters you see.
Probably the best food I've had in Berlin besides Pitas and Falafels is Thai Curry. It's incredibly cheap, very filling, and it tastes so good. For less than five euro, you can get a huge bowl of delicious curry with broccoli, carrots, and all sorts of secret vegetables I don't know the names of, in a cozy, nicely decorated restaurant. They're all over Berlin. My favourites are Cari Xanh in Prenzlauer Berg and Thai Inside, which is in Alexanderplatz, right by Kapitel Zwei, where I'm learning German.
The other day, I finally had a really good breakfast burrito with potatoes, sour cream, guacamole, and some curly French fries! Since I left the U.S., I hadn't had a good burrito, and I was really missing it! The restaurant was called Ankerklause, and we sat on this really pretty balcony overlooking a river. The service was great, too, and the bartender even recommended some nice clubs for us to check out, though that's a story for another time.
Do you want to learn German successfully?