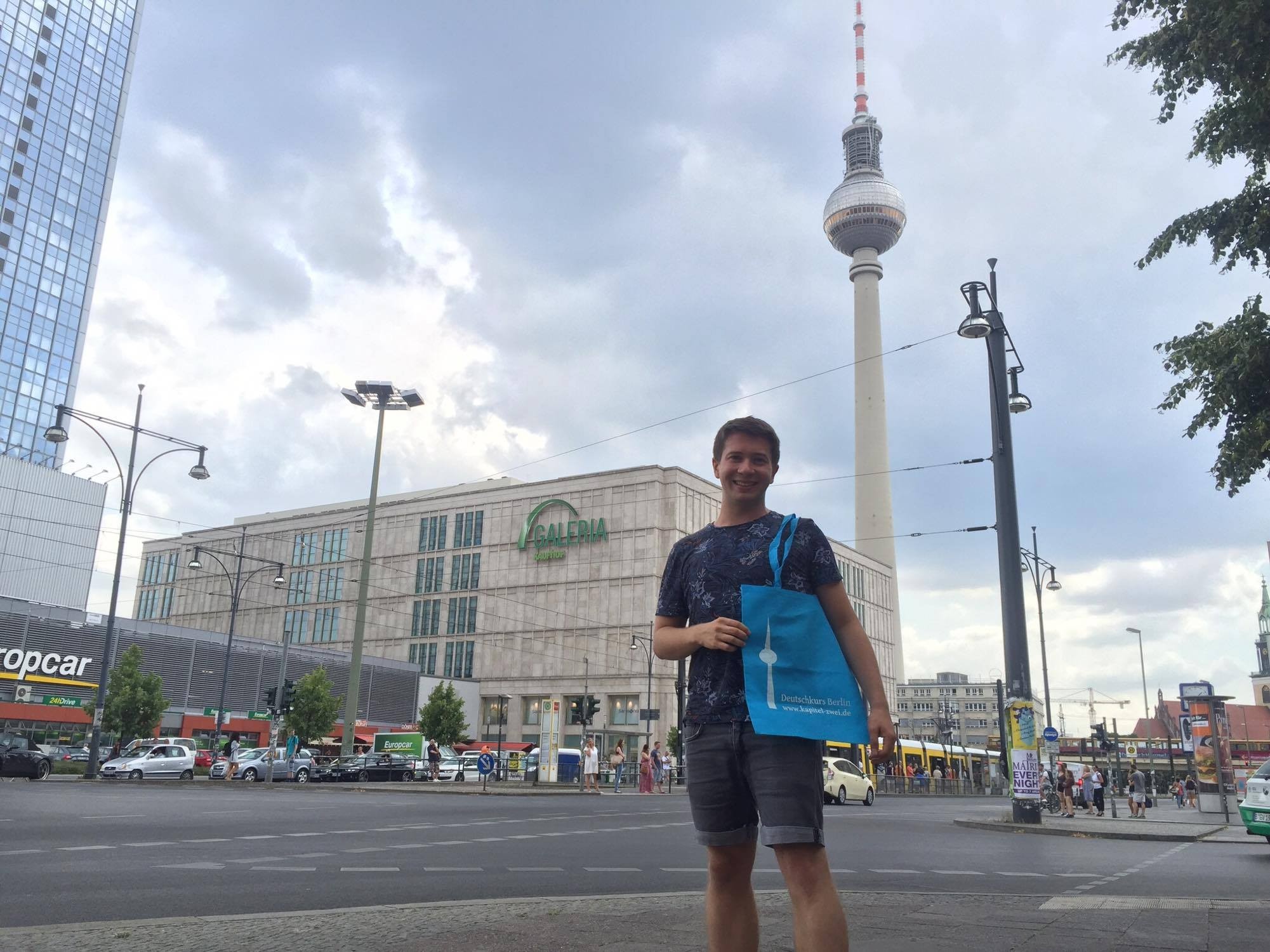 Hallo! Mein Name ist Brian. Ich komme aus New York. Ich lerne Deutsch jetzt in Kapitel Zwei. Ich beginne gerade. Ich in der A1 Klasse bin. Meine Lehrerin ist Frau Marion. Unsere Klasse hat 10 Personen. Ich bleibe in Berlin 1 Monat. Ich liebe das Leben in Deutschland!
Hi from Germany! My name is Brian Greco and I am a student and traveler from New York. I am here in Berlin beginning my study of the German language at Kapitel Zwei. I came for the summer to learn German for personal enrichment and to have an excuse to be in the wonderful city of Berlin for a month—and I am already loving it.
We're here at Week 2: I had a great first week and things are moving along well already in the A1 class. We've covered, of course, the basic phrases, as well as a solid introduction to German articles, pronouns, and key verbs. I like the small class and daytime schedule which really works perfectly for making the most out of your days in Berlin.
I am genuinely enjoying the vibe at Kapitel Zwei. I've done a lot of language programs, and it's rare to find such a casual but effective environment and in such a great spot. Everyone at the school is friendly and it's truly a diverse group of people. Our class has students from 5 continents and it's great to hear not only German in the halls but also other languages.
Earlier this year, I was living in China for my studies and was looking at things to do for the summer. I wanted something fun, interesting, enriching, and in a great locaVon that is extremely livable—and Kapitel Zwei as an option for Berlin really caught my eye.
I really cannot stress enough how much of a value of this entire experience has already been. I selected the course and accommodation for 4 weeks—and for such an insane deal, I'm here living right in the center of the city, just 3 stations from Alexanderplatz, enjoying my own space and jumping right into living life here. I have only scratched the surface so far with visiting places around Berlin—the weather is nice so I've gone to Tegel lake a few times, I've been to an outdoor theater, walked around Brandenburg Gate during the Germany game, enjoyed numerous delicious meals and walked through lots of great markets and squares.
I love waking up in the morning, getting on the U8, having class at Kapitel Zwei, and then knowing that the rest of the day could hold any possibility. I love taking the trams, listening to German spoken around me, and observing the wonderful society around me.
If you are someone like myself who enjoys learning languages, who has a hunger for being part of perhaps one of the most engaging and interesting cities to live in, and to be able to access that in a way that is intimate and can help you find your niche (because there is something for everyone in Berlin)—I totally would recommend this experience.
I am looking forward to what this week will bring and sharing about progress with Deutsch and in Deutschland—tschüss!
Do you want to learn German successfully?