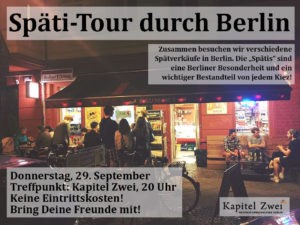 Späti tour through Berlin
Späti-Tour through Berlin – Späti is an institution in every Berlin district ("Kiez"). You'll find these little convenience stores/corner shops everywhere and they usually are open all day and all night. They are more than just a shopping option, but part of the urban culture of Berlin.
On Thursday, September 29th, you can join Kapitel Zwei on a Späti tour and to find the best Spätis to have a beer and a talk. We will meet at 8pm at the entrance of your language school and start at Alexanderplatz. Our tour ends near the subway station Eberswalder Straße in Prenzlauer Berg. No admission fees!
Do you want to learn German successfully?