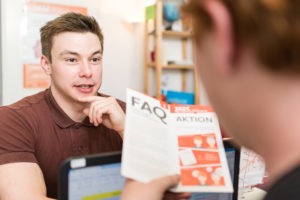 Here, you can find answers to important questions that you might have in connection with our school and your German classes.
1. Is it possible to only participate 1, 2 or 3 weeks in a German course? Can I start in the middle of the course?
Our German courses run for 4 weeks. If you don't have 4 weeks to take part, we put you on the waiting list and will decide in the second week of the course if you can join the German course. If we have places left in the second course week, you are very welcome to participate with a reduced course fee.
2. What is a reservation? When do I have to pay my German course?
Like in a restaurant we reserve a place for you until a certain date. Until that date you can pay for your course whenever you want. After that date, we cannot guarantee that the place in the course will still be available to you.
3. Can I pay the German course at the first day of class?
You will need  to pay your course fee by the reservation date given to you, in order for us to ensure your attendance and plan courses accordingly. Unfortunately there are no exceptions.
4. Can I change the time of my German course?
If you decide for one time frame for the course, you will normally stay in that class. If there are free places left at another time, you'll might be able to switch the class.

5. What happens if I can't come to German class anymore?
Did you buy a cancellation insurance? If so, you can cancel your course, pay the arrangement fee and receive the rest of your money in our office.
You did not buy a cancellation insurance? In this case, you can't get your money back. Nevertheless, out of courtesy we will try to sell your place to somebody else interested in the course. If bought, you will only have to pay a service charge and you will receive the rest of your money.
If we cannot sell your place to another person, you will maybe have the opportunity to continue the course you paid for later on in another month. However, we will decide on that only within the second week of the course of the desired month. If there are places left at that time, you can participate in the German course.
6. Can I pay by Visa?
No. You can find the bank account details on our homepage.
7. Can I split the four weeks into several different months?
No, unfortunately not. In order to follow the class as best as possible, you should finish one level within one month. Once you have reached level B2, there might be a possibility to split the four weeks. However, this will only be able to be discussed there and then.
8. Can I borrow the book?
We only lend books to students who are testing a course for 3 hours. A deposit is required. For our courses we sell the books.
9. Can I get a registration confirmation for a period for over 3 months or more?
Yes, we can give you a registration confirmation for over 3 months or more. Therefor it is important that you register officially at our German language school and pay the complete fee of the first month in advance. For the following months, we will reserve a place in the appropriate courses for you.
10. Will there be an exam at the end of the German course?
In general, you can book the follow-up course without any exam, but Kapitel Zwei offers the official telc Deutsch B1, B2 and C1 exam at Alexanderplatz.

11. Which book do we use in the German course?
We work with different books. We will announce the books needed, the day of the start of the courses. All books used are modern, well structured books. Our students are very happy with them. You can buy the book on the first day of your course in our office and pay in cash.
12. How do I get a Visa?
Our website provides you with a detailed response.
13. Do you offer as well health insurance?
Our students are very happy with the following health insurance. You can fill in the registration form online, they will get in touch with you.
14. Admission letter
We offer registration confirmations for our German language courses. We don't offer the so-called "conditional admission letters from German universities". Other language schools will help you with that.
15. Who is my teacher?
All of our teachers are German native speakers and fully qualified. The decision on which teacher will take on a certain course will be made around a week before the actual course start. Please be aware that we cannot guarantee that you will keep  your current teacher for the follow up course.
Deutschkurs Berlin – Intensivkurs Deutsch (A1-C2) – ab 222 €