Learn German in Berlin with "Kapitel Zwei, German language school Berlin" at Alexanderplatz.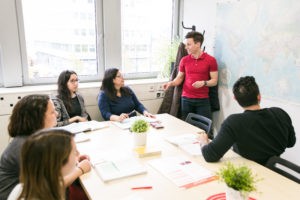 German courses for companies in Berlin | in-house
Are you looking for the right German course for your employees, colleagues or even for your boss?
Kapitel Zwei offers German courses directly at your head office or at the language school's seat. Due to that, it is not only that you learn the German language, but you also get to know new people outside your work.
More information
On the one hand you benefit from our flexible course schedule at the language school, on the other hand from your own wishes at the office. You wish to have your lesson 1x per week for 90 minutes, or 2x per week for 60 minutes, or do you have a completely different idea of how to learn German? Send us your individual wish via e-mail.
Please let us know where the focus should be put on (e.g. conversation, business correspondence, a certain language level, an official exam etc.). Our teachers work with specific teaching material (books, copies), but they can also develop an individual course programme for your company. Our teachers are German native speakers.
Before the course begins, we carry out a written placement test, to form a group with a homogenous level as far as possible. In order to provide an optimal learning outcome and also fun, we pay attention to small groups (in average 1 to 11 persons).
We provide a detailed consultation for your German course. Did we arouse your interest? Send us an e-mail containing the following topics:
Request | Group lessons
Head office (address / homepage)
Number of participants
Expected level (beginner, intermediate, advanced)
Classes per week plus number of hours (e.g. 1x 90 minutes, 2x 60 Minutes, 3x 120 minutes, etc.)
Daytimes: mid-morning, noon, afternoon, evening
Expected period of time
More options to learn German at our language school:
If you have any questions about your German course contact us: berlin(at)kapitel-zwei.de