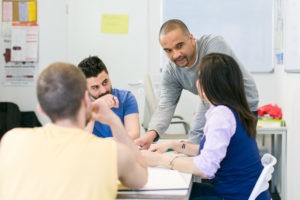 Welcome to your German classes! Please take the time to thoroughly read our General Terms & Conditions. The following are legally binding.
Kapitel Zwei. Deutsch-Sprachschule Berlin GmbH (limited liability company)
§1 Registration fee or Social Media
Kapitel Zwei doesn't charge you any registration fee. Use your valuable time to write a feedback after your German course on social media platforms, (such as google+, Facebook, Twitter or Instagram, etc.) if you enjoyed the lessons, or if you liked the leachers and the school. You are free to write your text about our school, your German course or Berlin in any language. The text entries can be a post or a tweet as well. Please send us your input/article (as a link) via email.
§2 German classes
A minimum of five participants is required for German course to take place. If the necessary numbers failed to be recruited, "Kapitel Zwei. Deutsch-Sprachschule Berlin GmbH" reserves the right to:
either delay the start of the course
change the time of the sessions
Shortening of the German language course
offer an alternative
cancellation and a refund of the course fee
§3 Amendment or cancellation by Language School
"Kapitel Zwei. Deutsch-Sprachschule Berlin GmbH" will advise you of any change in date, duration or cancellation no later than two days prior to start of the course. If you disagree with any of the amendments made to the course, you shall be provided a full refund. The tutor has the right to arrange for alternative dates in consultation with the participants.
§4 Terms of payment
The course and accommodation fees as well as the cost for an optional cancellation insurance must be paid in full by yourself in advance, either in cash or by cash or visa card in the office or by bank transfer or PayPal. We do not accept any payments made by Western Union. Please inform yourself about any incurring bank charges for foreign transactions. "Kapitel Zwei. Deutsch-Sprachschule Berlin GmbH" will not bear any of these costs.
You will receive a booking confirmation for your class prior to payment.
You will receive an invoice/receipt after settlement of the charges.
§5 Your request for amendment or cancellation
Any change in bookings or a full refund following a cancellation can only be processed if notification was provided at least 14 days prior to class commencement.
The cancellation of two or more courses is subject to a 32 EUR administration fee.
Late cancellations or no-shows are fully chargeable. The same processing fee is charged for all further cancellations, rebookings or acts of goodwill.
Upon cancellations of German courses of at least six consecutive months , we charge a processing fee of 3 % of the course prices, on the basis of excessive additional expenses.
If you have accommodation booked, you will need to advise us of any change or cancellation at least 28 days in advance of the reservation.
A full accommodation refund is subject to a 32 EUR administration fee.
§6 Cancellation insurance
You can take out a cancellation insurance. With this insurance "Kapitel Zwei" will refund you the total amount of the fees in case of no-show (until 1 day before the course starts). In case of premature termination (drop out of the course) you will get a proportionally refund depending on your real attendance.
The costs of cancellation insurance always amount to 12% of the value of the fees and is only valid in case of professional commitments, death or sickness in the family on presentation of a corresponding, official document.
Please note that the above insurance need to be taken out upon signing the contract. Payment needs to be made prior to the start of the course together with the course fees. It is not possible to take our insurance after the course has been paid for.
The cancellation insurance does not cover accommodation expenses.
§7 Intermittent attendance
Classes missed for personal reasons will not be reimbursed or replaced with alternative classes. Intermittent attendance might affect your participation at potential follow-up sessions and you might be required to undergo another placement test.
§8 Follow-up courses
Enrolment on a follow-up course and accommodation is not automatic. Subsequent courses and accommodation will need to be booked within the office opening hours before your requested language course is booked out. The payment must be made until the reservation date.
Documents
§9 Visa
Proof of course registration to present at the embassy for visa purposes can be obtained after receipt of payment.  A full refund subject to a 32 EUR cancellation fee will be provided if the visa application is rejected and "Kapitel Zwei. Deutsch-Sprachschule Berlin GmbH" is notified at least one week prior to start of the course. We will require a written rejection letter from the embassy/consulate in order to process the refund.
§10 Course confirmation
A free course confirmation is issued to every participant after completion of the classes.
§11 Private lessons
You must advise us of any cancellations or changes to an agreed private lesson no later than 24 hrs prior to start of the session. You will not be reimbursed for any unclaimed or cancelled private sessions.
§12 Liability
The participation in our courses and in our leisure program is at your own risk. "Kapitel Zwei. Deutsch-Sprachschule Berlin GmbH" cannot be held liable for any accidents, damages or cancellation of classes arising from force majeure. "Kapitel Zwei. Deutsch-Sprachschule Berlin GmbH" cannot be held legally responsible for lost, damaged or stolen property.
§13 Damage liability
If you have booked accommodation, you can be personally held liable for any damages which may arise during your stay. We reserve the right to charge a deposit. Furthermore you're obliged to leave the rented room in a neat and tidy condition on the day of your move (which is always on a Friday). All rented items will have to be returned to their original location. Please note that you have to have left the apartment by 10am.
§14 Health and accident insurance cover
It is your personal responsibility to arrange for health and accident insurance cover as part of your stay in Berlin/Germany. "Kapitel Zwei. Deutsch-Sprachschule Berlin GmbH" recommends you to contact "Care Concept".
§15 Registration
If you are younger than 18, your legal representative is considered as trading partner and hence will need to sign the registration contract on your behalf as well as provide us with his/her contact details.
§16 Minimum age
Course participants must be at least 16 years of age and at least 18 years old to arrange for accommodation.
§17 Correctness of information
You hereby certify that the information in your application form are true and correct to the best of your knowledge. You will not be reimbursed the course fee if you have been misclassified based on incorrect information or due to any assistance provided during the placement test.
§18 National holidays
There are no lessons on German national and religious holidays.
§19 Books
Course books can be purchased in the office. Used books cannot be returned or exchanged. In some courses a small fee for copies is required in order to improve your German language.
§20 Pictures
Given to a prior announcement "Kapitel Zwei. Deutsch-Sprachschule Berlin GmbH" reserves the right to take pictures of study groups as well as individual learners during classes or extracurricular activities and use them for advertising purposes.
§21 Terms of use for W-LAN HotSpot of Kapitel Zwei
(Karl-Liebknecht-Str. 29, 10178 Berlin, 2nd Floor)
In this paragraph the pupil/teacher and all other users who will log in to the W-LAN of Kapitel Zwei, will be addressed as "user"
1. Privacy Policy
After signing in, the data traffic between the HotSpot of Kapitel Zwei and your device is transmitted unencrypted and does not guarantee the privacy and confidentiality of information. Sensitive material transferred over the Internet may be at risk of detection by a third party. It is your own responsibility to protect your data (by using a firewall, anti-virus software, regular data backup etc.) and to encrypt your data (eg https, VPN).
2. Misuse of the HotSpot by you
The HotSpot provider (Kapitel Zwei GmbH) appears as a neutral technical intermediary and has no control over transmitted contents. You are responsible for the Internet content that you are accessing over the hotspot and/or distributing or which you make available to the public. A content monitoring through the HotSpot provider does not take place. The user is obliged not to misuse the HotSpot.
Among others, misuses of the HotSpot are as follows
violation of any patent, trademark, trade secret, copyright or other proprietary rights of any party, use of Peer-to-Peer Networks e.g. illegal file-sharing
Using the service to transmit/publish any material that, intentionally or unintentionally, violates any applicable local, state, national or international law, or any rule or regulations promulgated thereunder. And sending bulk and/or commercial messages and viruses.
publication of data which promotes or encourages illegal or socially unacceptable or irresponsible behaviour; including links to websites containing such content
violate the WiFi Network's security or any third party's system or network security by unauthorised access to or use of data, systems or networks, including any attempt to probe, scan or test the vulnerability of a system or network (hacking)
Using the Service for any activity which adversely affects the ability of the system, network services or network equipment or structur of the hotspot server of the hotspot provider
3. Indemnification
You shall defend, indemnify and hold Kapitel Zwei GmbH harmless from and against, and shall promptly reimburse them for, any and all losses, claims, damages, settlements, costs, and liabilities of any nature whatsoever (including reasonable attorneys' fees) to which any of them may become subject arising out of, based upon, as a result of, or in any way connected with, your use of the Wi-Fi System or any breach of this Agreement. Anyone who believes that there is or will be a violation of these terms of use, must direct the information immediately to the HotSpot provider
4. Miscellaneous
The above conditions define the hotspot usage between the HotSpot provider (Kapitel Zwei GmbH) and you as a user. Verbal collateral agreements do not exist. Law of the Federal Republic of Germany applies.
All users (including yourself) acknowledge and agree that Kapitel Zwei GmbH will log any internet activity for any IP/Mac address of any device (laptop, mobile/cell phone, tablet, etc) for the protection of this directive and the above-mentioned legal requirements Thus, the liability, of all of your activities mentioned under section 2, will be transferred to you as a user.