Learn German in Berlin with "Kapitel Zwei, German language school Berlin" at Alexanderplatz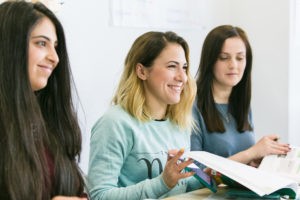 German Course Berlin: Grammar –  only 82€!
You are interested in improving your grammar? Keen to explore new aspects of the German language and solve any outstanding questions? You want to apply theory to practice?
The grammar course gives you an overview of the German grammar with key terms, rules and grammatical structures that you need for the German language. We use copies, so that your desired topics in accordance to the group's level can be considered. You are free to take the course several months, since we have a changing programme.
We offer three different grammar course levels.
Grammar German course at a glance